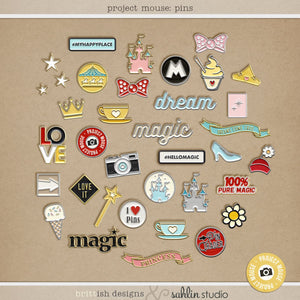 Project Mouse: Pins
Regular price
$3.49
$0.00
Unit price
per
Pocket style scrapbooking is all the rage right now, and for good reason. It is one of the easiest ways to quickly & beautifully create a cohesiveproject with no fuss! So what happens when you cross the ease of "Pocket Style" scrapbooking with a passion for "The Happiest Place on Earth"? You get Project Mouse - a collab between Sahlin Studio & Britt-ish Designs!
For this installment we bring you
"Project Mouse: Pins"
- an eclectic bunch of magically-themed embellishments perfect for adding a special touch to your page. Reminiscent of the enamel trading pins that we collect on our backpacks, jackets and lanyards, they add the detail of a sticker with the visual weight of a brad or other fastener. Perfect for documenting a princess tea-party, a spin on your favorite ride, or even pics of your own pins you've collected and traded while on vacation. This element pack will add a realistic depth and playfulness to any project you create!
Included:
44 Enamel Pins ('úö 1 'dreams come true' banner 'úö 1 'princess' banner 'úö 3 castles 'úö 1 carousel 'úö 1 hat 'úö 2 crowns 'úö 1 daisy 'úö2 bows 'úö 1 wand 'úö 1 star cluster 'úö 1 ice cream cone 'úö 1 'pin trader' pin 'úö 1 'love it' pin 'úö 1 dole whip 'úö 1 'project mouse' pin 'úö 2 'magic' pins 'úö 2 teacups 'úö 1 '100% pure magic' pin 'úö 1 arrow 'úö 1 camera 'úö 1 glass slipper 'úö 1 'I <3 Pins' pin 'úö 1 'dream' pin 'úö 1 '#hellomagic' pin 'úö 1 '#myhappyplace' pin 'úö 1 'M' 'úö 1 star 'úö 1 'LOVE" pin)

'ô• CLICK HERE to learn more about the magic that is PROJECT MOUSE! 'ô•

(This is a digital product available for download, you will receive no physical product. All products are created at 300 dpi for highest print quality.)
---
Share this Product
---