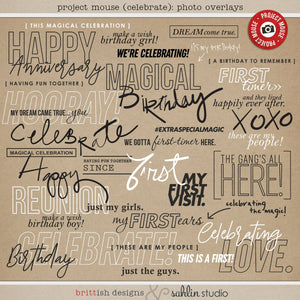 Project Mouse (Celebrate): Photo Overlays
Regular price
$2.99
$0.00
Unit price
per
Pocket style scrapbooking is all the rage right now, and for good reason. It is one of the easiest ways to quickly & beautifully create a cohesiveproject with no fuss! So what happens when you cross the ease of "Pocket Style" scrapbooking with a passion for "The Happiest Place on Earth"? You get Project Mouse - a collab between Sahlin Studio & Britt-ish Designs!
Are you ready to PAR-TAY??!! Project Mouse is CELEBRATING this brand new collection. With a bright, classic color scheme, with lots of bold black and white, you'll ready to scrap any kind of celebration! Anniversaries, engagements, family reunions, first visits, first rides - ANY kind of first - and of course BIRTHDAYS, we've got it covered! Pick up this happy collection now and say hip hip HOORAY for "Project Mouse: Celebrate"!
Photo Overlay Pack Includes: 39 word arts / phrases
Phrases like: * birthday * celebrate * dream come true * first * the gang's all here! * and they lived happily ever after. * happy * hooray! * love. * it's my birthday * these are my people! * this is a first! * we're celebrating! * make a wish birthday boy! * make a wish birthday girl! * xoxo * [a birthday to remember] * anniversary * celebrating * celebrating the magic! * #extraspecialmagic * first timer * having fun together since___ * [having fun together] * just my girls. * just the guys. * magical * magical celebration * my dream came true... you * my first ears * my first visit. * reunion * [these are my people] * [this magical celebration] * we gotta first timer here.
Looking for other coordinating products? Buy it all in theBUNDLEand Save $$!
'ô•
CLICK HERE to learn more about the magic that is PROJECT MOUSE! 'ô•
(This is a digital product available for download, you will receive no physical product. All products are created at 300 dpi for highest print quality.)
---
Share this Product
---