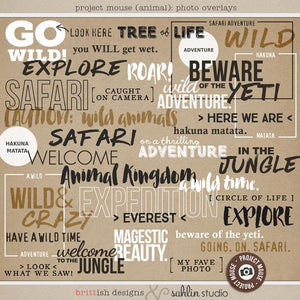 Project Mouse (Animal): Photo Overlays
Regular price
$3.99
$0.00
Unit price
per
Pocket style scrapbooking is all the rage right now, and for good reason. It is one of the easiest ways to quickly & beautifully create a cohesiveproject with no fuss! So what happens when you cross the ease of "Pocket Style" scrapbooking with a passion for "The Happiest Place on Earth"? You get Project Mouse - a collab between Sahlin Studio & Britt-ish Designs!
For this installment we bring you"Project Mouse (Animal): Photo Overlays". Does your family go wild over animals? Or maybe you have an adventurous little explorer in your herd.With Project Mouse: Animal, you can easily document your family's expeditions! Whether it's a magical adventure in the Animal Kingdom, a real lifeAfrican safari, a thrilling day at the city zoo, or even documenting your child's favorite stuffed animal, this jam-packed collection is filled with snappy phrases and tons of creative word artthat will help you tell all your stories! Perfect for layering on digi-pages, printed out for hybrid projects, or tucked inside your favorite pocket style album!
This pack includes: 'ô•41 Word Art OverlaysIncludes phrases like: a wild time, caution: wild animals, explore, magestic beauty, tree of life, roar, beware of the yeti, hakuna matata, let the adventure begin, welcome to the jungle, and LOTS MORE!
Looking for other coordinating products? Buy it all in theBUNDLEand Save $$!
'ô• CLICK HERE to learn more about the magic that is PROJECT MOUSE! 'ô•
(This is a digital product available for download, you will receive no physical product. All products are created at 300 dpi for highest print quality.)
---
Share this Product
---