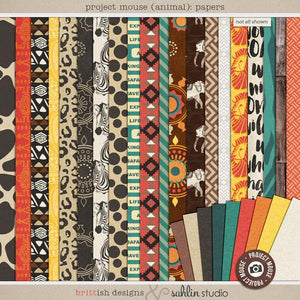 Project Mouse (Animal): Papers
Regular price
$4.99
$0.00
Unit price
per
Pocket style scrapbooking is all the rage right now, and for good reason. It is one of the easiest ways to quickly & beautifully create a cohesiveproject with no fuss! So what happens when you cross the ease of "Pocket Style" scrapbooking with a passion for "The Happiest Place on Earth"? You get Project Mouse - a collab between Sahlin Studio & Britt-ish Designs!
For this installment we bring you"Project Mouse (Animal): Papers". Does your family go wild over animals? Or maybe you have an adventurous little explorer in your herd.With Project Mouse: Animal, you can easily document your family's expeditions! Whether it's a magical adventure in the Animal Kingdom, a real lifeAfrican safari, a thrilling day at the city zoo, or even documenting your child's favorite stuffed animal, this jam-packed collection is filled with warm colors, tribal prints, and fun graphics that will help you tell all your stories! Perfect for layering on digi-pages, printed out for hybrid projects, or tucked inside your favorite pocket style album!
This pack includes: 'ô•32 sheets, 23 patterns & 9solids, 12x12
Looking for other coordinating products? Buy it all in theBUNDLEand Save $$!
'ô• CLICK HERE to learn more about the magic that is PROJECT MOUSE! 'ô•
(This is a digital product available for download, you will receive no physical product. All products are created at 300 dpi for highest print quality.)
---
Share this Product
---