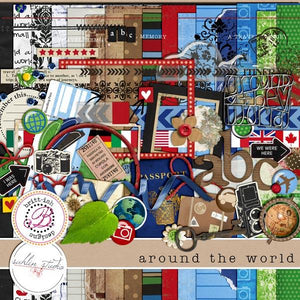 Around the World
Regular price
$7.59
$0.00
Unit price
per
Get ready for A Trip Around The WORLD!!! This fantastic collab between Britt-ish Designs & Sahlin Studio is a travel gurus' dream come true. Whether you need to finish scrapping your latest family road trip, or are creating an autograph book for your upcoming magical vacation, A Trip Around The World contains a fresh mixture of graphic and vintage elements that will inspire your creative juices! Perfect for mix and matching with the Taste of the World Bundle!
Check out the coordinating
"Taste of the World Bundle"
.
Or purchase the
"Ultimate Round Trip Ticket Bundle"
to get it ALL!
Included in this MEGA-KIT you'll find:
* 16 papers
* 2 full alphas (including numbers and punctuation)
* 65 Elements
(many elements have both shadowed and non-shadowed versions)
* 4 frames
* 2 epoxy clouds
* 1 metal bracket
* 2 strings
* 2 ribbons
* 4 epoxy travel brads
* 3 glitter centered flowers
* 1 black floral rub-on
* 1 vintage globe
* 1 flag border
* 1 vintage key
* 1 leaf
* 2 paint strokes
* 1 modern passport
* 1 ticket
* 1 vintage post card
* 1 suitcase
* 3 stitches
* 3 tabs
* 2 vintage camera rub-ons
* 1 world sticker
* 1 vintage ticket bit
* 2 arrow tab stickers
* 1 cloth button
* 1 compass rose
* 1 vintage map bit
* 2 heart graphics
* 1 cardboard flower
* 2 journaling spots
* 2 I/we were here signs
* 1 around the world word art
* 1 sequins sprinkles
* 1 paint splat
* 4 word arts
* 1 wooden bead
* 1 staple
* 1 star paper strip
* 1 postmark stamp
* 1 metal rimmed brad
* 1 floral rub on strip
(This is a digital product available for download, you will receive no physical product. My products are all created at 300 dpi for highest print quality. )
---
Share this Product
---