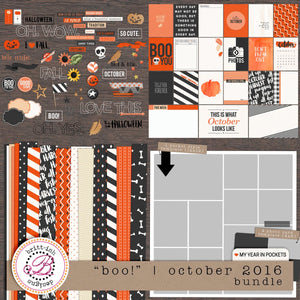 My Year In Pockets: "Boo!" | October 2016 (Bundle)
Regular price
$8.99
$0.00
Unit price
per
★ Document memories. ★ Put them into pockets. ★ Write your stories down. ★ Embellish. ★ DONE. ★ This is My Year In Pockets.
Each month I will release a new "My Year in Pockets" bundle. The bundle will include a full kit - papers, elements, a 12x12 template, a card template,and of course the ever-important JOURNAL CARDS! The product packswill be available individually, or sold in a bundle at a discounted price (the usual way of things here at Britt-ish Designs). Individually the products would total $12.96. Purchased in the bundle you only pay $8.99 (a 30% savings). Everything is perfectly sized for 3x4 and 4x6 pockets - PERFECT for you Project Life fans out there.
The"my year in pockets: "boo!" | october2016(bundle)"is without a doubt a kit created for documenting those classic OCTOBER moments. From trips to thepumpkin patch, to trick or treating, costumes, and even a Not-So-Scary Halloween Party, this kit has this spooky month covered!
Included in this bundle you'll receive:
You can find more inspiration and details about "My Year In Pockets"on my blog.
(This is a digital product available for download, you will receive no physical product. All products are created at 300 dpi for highest print quality.)
SaveSaveSaveSave
---
Share this Product
---